Paddayi is a national award winning TuLu film written and directed by Abhaya Simha. It is a modern day adaptation of the epic drama, 'Macbeth' from Shakespeare.
Writer & Director Abhaya Simha, is a graduate of Film and Television Institute Of India (FTII). The Docskool, South Asian script lab in Nepal, picked up the script of Paddayi for its workshop. The film was also chosen for screening in several International Film Festivals in New York, Austria, Australia, France and in India. For the first time in the history of Coastalwood, a film's production and screenplay was brought out in a book (in Kannada).
Director Abhaya Simha has been kind enough to make available the complete screenplay of this film in Scrite format. For Scrite, this is the first film for which the entire screenplay is in Kannada. In addition to the screenplay, Director Simha has captured notes against key characters in story and also for several scenes in the screenplay.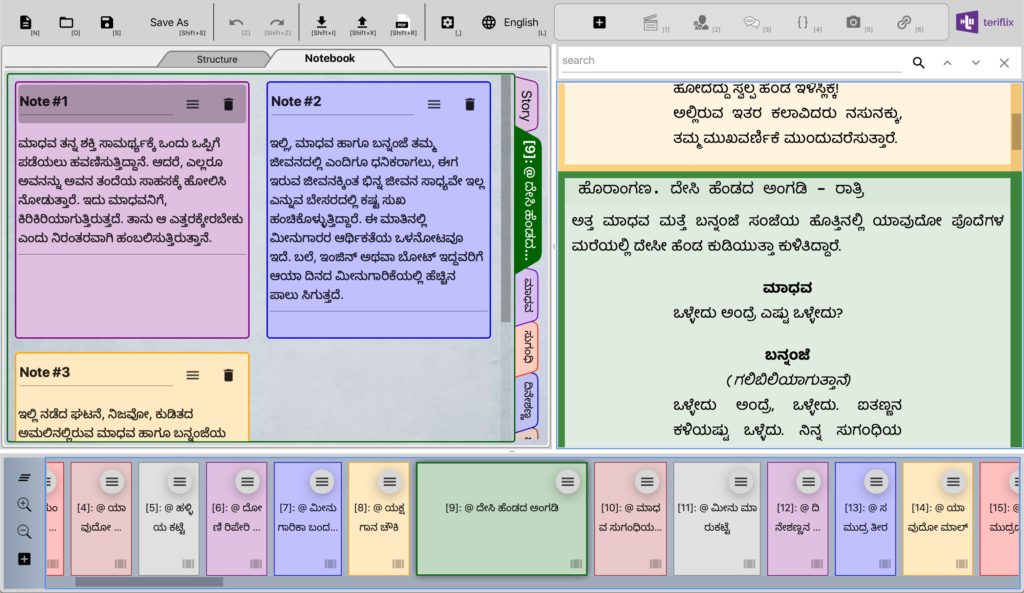 The story revolves around Madhava and Sugandhi, who are a newly married couple from the fishing community of South India. Their lust for better life and thirst for upward mobility is ignited by the prophecies from the spirit that wander the land. Dinesha, owner of the fleet gives them new dreams and hopes. But when their life was on a new high, Dineshanna betrays and take back what he gave. Now Madhava and Sugandhi are determined for a bitter revenge. They set out on a journey riding the tide of ambition in a boat dotted by their personalities. Sugandhi provokes and Madhava is provoked. Madhava in order to win over his insecurities, defeats his morality. The story soon turns into a tale of murder and regrets.
What comes bundled?
Complete screenplay of Paddayi in Scrite format.
Complete PDF version of the screenplay.
You can download the screenplay bundle here: https://shorturl.at/wxRV8.